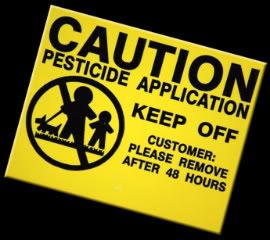 With the New Year comes a new legislative session in Albany. That New Year and session were marked yesterday by newly elected Governor Cuomo's State of the State speech. With each legislative session comes the hope that our elected officials will do the hard work necessary to make a difference in the lives of citizens and the environment.
As the 2011 legislative session begins, the Neighborhood Network remains committed to the passage of legislation that would ban the use of toxic pesticides for non-essential, cosmetic purposes. Department of Environmental Conservation pesticide reporting figures show that over 5 million pounds and almost 400 thousand gallons of pesticides are applied yearly on Long Island by professional certified applicators. There are simply no figures on how much pesticides are applied by homeowners on their own property, but extrapolating from EPA national figures it is likely that a total of over 11 million pounds of pesticides are used on Long Island every year. We know that more than 100 pesticides and their breakdown products have already been discovered in Long Island groundwater. Knowing this, we are urging our elected officials to make this bill a priority for passage in this legislative session, and we're encouraging our members to do the same.
Too many children are needlessly exposed to chemicals in the grass they play on. Pesticides kill non-target organisms in both soil and water and can stay in the environment for years. Data about the toxicity of chemicals in our environment is mounting and there is convincing evidence that harm to humans and the environment is of such magnitude and significance that new values for conducting human activities are necessary. Pesticides are associated with lung, breast, brain, prostate, stomach, kidney, and pancreatic cancers along with Hodgkin's lymphoma and leukemia. Pesticides threaten reproductive health; contribute to underweight babies and birth defects.
Legislation is necessary to eliminate exposure to toxic chemicals used for non-essential lawn and turf maintenance. The bill we are working to pass would ban the use of pesticides on turf grass and ornamental plants, with specific exemptions for safer products including horticultural oils, soaps, biopesticides and materials on the Environmental Protection Agencies list of "minimum risk" pesticides. If their only purpose in the market place is to eliminate weeds and keep lawns green, the question becomes – can we continue to justify the use of toxic chemicals that pose the risks of accidental poisonings, long term health hazards, degradation of our drinking water, and harm to companion animals and wildlife?
The precautionary principle should act as a compelling starting point in the formulation of this legislation.
- The January 1998 Wingspread Statement on the Precautionary Principle summarized the principle in this way:
"When an activity raises threats of harm to human health or the environment, precautionary measures should be taken even if some cause and effect relationships are not fully established scientifically. In this context the proponent of an activity, rather than the public, should bear the burden of proof. The process of applying the precautionary principle must be open, informed and democratic and must include potentially affected parties. It must also involve an examination of the full range of alternatives, including no action."
When weighing the risks versus the benefits of using chemicals it becomes clear that avoiding them is advisable. Especially when safer alternatives exist. Banning the use of these targeted pesticides sends a strong precautionary message to citizens, facilitates enforcement, and encourages the chemical industry to provide safer alternatives.
Action is necessary to make a difference for people and the environment. The time for a ban on toxic chemicals for unnecessary uses is now. Until it can be shown that continuing a regime of merely regulating the use of pesticides can result in a drop in their use and a decrease in exposures, arguments for regulation, no matter how well worded, no matter how well reasoned, are all moot. Repeating what has failed to show results over and over again is an exercise in futility. We either work from reality, diligently, truthfully and rationally, or we indulge in a delusion at the expense of those we represent.
Follow the Neighborhood Network on Twitter. Like us on Facebook. Listen to our podcast